Those of you with pets know how challenging a simple visit to the vet's office can be.
Can you imagine trying it with a 500 pound tiger?
We have been blessed with a very dedicated and talented veterinarian, Dr. Melanie Marsden, President of the Colorado Veterinary Medical Association. She has worked tirelessly alongside us since 1997 to provide the best possible treatment for the animals in our care, free of charge! One of our biggest challenges has been not having an on-site facility capable of allowing quick diagnoses or handling more delicate procedures in a sterile environment

The summer of 2005 saw one of our most cherished dreams for the sanctuary come to life with the completion of our fully functional veterinary center for felines.
YOU MADE A DIFFERENCE! Thanks to your generosity, our new on-site clinic makes Serenity Springs Wildlife Center one of the preeminent exotic feline sanctuaries in the country.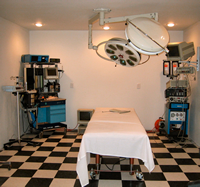 Of course, this new addition to our facility also means an increase in the number of requests for cats seeking sanctuary. Hurricanes Katrina and Rita in September of 2005 left a large number of big cats in desperate need of refuge, many specifically requiring a place such as ours with on-site veterinary facilities. This means a need for more enclosures, more medicines, more travel and more of everything. We know that none of what we do is possible without you. Only with your continued support will we be able to continue our work making Serenity Springs Wildlife Center one of the premiere sanctuaries in the U.S. for exotic felines.